You can call us on:
0131 629 2400
Roofline Scotland
With over 18 years experience, specialising in the installation of Roofline in Scotland replacement PVC fascias, soffits, barge boards, cladding, dry verge, seamless gutters, rainwater products roof coatings, EPDM flat roofing, roof replacement and Roofline advice.
We set the highest standards for product quality and the introduction and implementation of advanced installation techniques, ensuring our system is the best value for money on the market. Roofline Fascia, Soffits, Cladding, Bargeboards, Dry verge, and our Rainwater products, including Aluminuim Seamless Guttering not only look fantastic, but are guaranteed never to rot, flake or require painting. Our Roofline system also helps prevent dry and wet rot and guards against the entry of birds and vermin, leaving your home looking at its best for years to come.
For a free, NO OBLIGATION roofline quotation, call our friendly and helpful Roofline experts and give your home the treatment it deserves:
100% Satisfaction
GUARANTEED
Our 10 year Roofline Guarantee sets the standard. We use only the very finest materials and all our installers are fully trained, qualified craftsmen.
Our roofline guarantee covers all workmanship and materials and, if you should sell your property, the guarantee is fully transferable to the new owners.
Our guarantee should not be compared with guarantees offered by many other companies, it is in addition to the manufacturer guarantee and it's integrity has been proven since 1996. It protects You!

more....News
SEAMLESS ALUMINIUM GUTTERS ROLLED OUT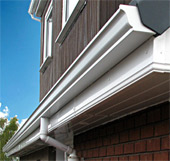 We added Seamless Aluminium Gutters to our list of quality products. This fantastic product has already proven to be a great success with customers, it is ideal for Scottish weather, being extremely strong, well able to stand up to heavy snow, requires very little maintenance and improves the look of all the homes on which it is installed. Each system is custom made for each property.
Our Promise to You
`All Trades Scotland Ltd is committed to providing the finest products available, we will never compromise on the quality of our products or our workmanship`.
`Our price promise to you is, if you find a cheaper quote for your roofline installation using the same quality of products, advanced installation techniques and backup service that matches our quotation, we will beat that quote by £100`.